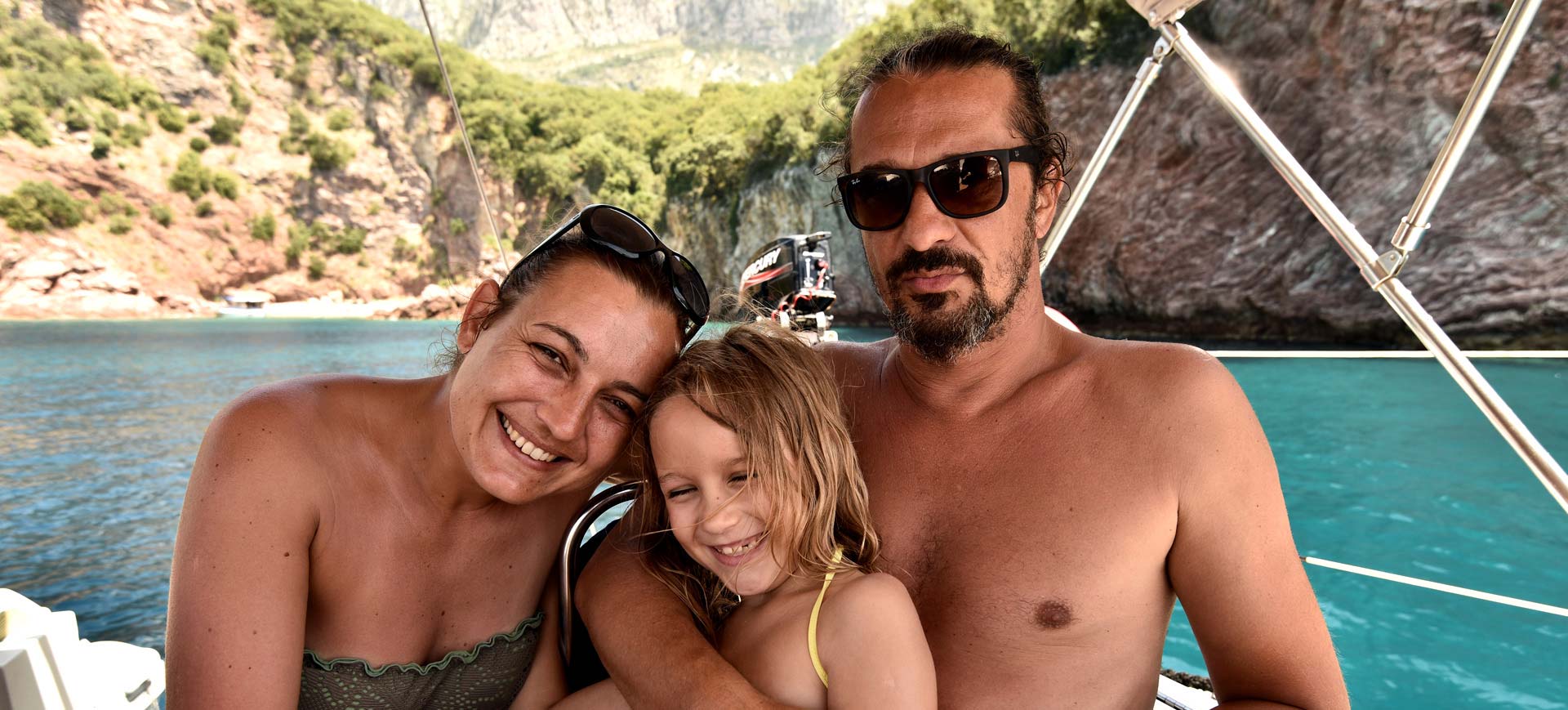 Sail with a Skipper in Montenegro
New to Sailing? No Problem! Leave it all to Professionals!
Skipper's responsibilities
Skipper is in charge of the yacht's navigation, mooring, anchoring and keeping the deck and cockpit of the yacht clean. He will always give his best to meet all charterers' wishes as far as they are realistic and do not compromise with safety.
Accommodation
Skipper needs to have his own cabin so he can get enough rest for all his duties during the day.
Cooking
Skipper does not cook. This is the responsibility of crew members, regardless if eating on board or dinning out. Crew members are baring the cost of food for the skipper.
Meet your skipper
Nikola Milentijević
Experience: around 50.000 nautical miles in the Adriatic, Aegean, Ionian and Tyrrhenian seas
Sailing Certificate: Yacht Skipper up to 100 GT
Language: Serbian and English
The most interesting offshore sailing experience: Sailing from Montenegro to Malta, Crete and Tunisia.
Dragan Vujošević
Experience: around 60.000 nautical miles in the Adriatic, Aegean, Ionian and Tyrrhenian seas
Sailing Certificate: Yacht Skipper up to 100 GT
Language: Montenegrin, English, Italian
The most interesting offshore sailing experience: Sailing from Montenegro to Athens, Greece
Testimonials
Dana Morar, Romania, July 2019
Thank you YachtingAdria for a great time sailing on the Adriatic sea! Thank you Dragan for being the best skipper! Loved every moment of it.
Andrea Tidemann, Norway, July 2018
We had such a good time sailing with YachtingAdria and Skipper Nikola! He had such good recommendations for where to sail, swim and eat. Everything from start of booking to end of holiday went so smooth. Happy days!
Pierre-Emmanuel, France, August 2017
Our Skipper Nikola has been very professional: he takes great care of the safety of his passengers and his equipment: he knows Montenegro well and will advise you on stopovers. Nikola is a seasoned seaman who perfectly masters his boat. On board, Nikola was able to be friendly while remaining discreet: the ideal skipper!
Sanja Laković, Montenegro, August 2016
Our holiday was awesome! We were all so relaxed as if we were sailing for years! I knew that seven days will not be enough but I was not sure how the rest of the crew is going to take it since some of them have sailed for the first time. We are going to sail two weeks next year, this is certain! Thank you!
Anne Walseth, Norway, September, 2010 and 2015
"We were 6 ladies who rented a sailing boat with skipper from YachtingAdria, and spent an unforgettable week along the Montenegrin coast. We visited the towns of Tivat, Herceg Novi, Bar, Budva, Perast and Kotor, as well as several little beaches and bays. We swam into caves and snorkeled in the crystal clear water, ate really good food in cozy restaurants, and enjoyed relaxing days in the sun, under the sails of the boat. Our skipper was very competent, calm and agreeable, and we sailed a lot despite varying winds. Even the rain that came over us on our last day, only added to our appreciation of this trip. We left the country with great memories of peaceful days in the sun, laughter, new experiences and places, and ready to face the North European autumn and winter. YachtingAdria provided us with excellent service, both before, during and after our trip, arranging everything including transfer to and from the airport, and we would not hesitate to use their services again, or to recommend them to anyone who wants to charter a boat in Montenegro."
Jovanka Aleksić, Serbia, July 2014
We had great time! This was one of the best vacations ever! Thank you!
Luigi Moretti, Italy, July 2013
Our sailing trip was very nice. Our skipper Dragan was very attentive and gave his best to keep our children happy.
Erik Kjersem, international crew, August 2012
We have visited most beautiful places in Montenegro and south Croatia, it was great fun. Our skipper was very professional. Highly recommended.
Sophie Chamberlin, international crew, August 2011
We are sadly back in Amsterdam now - 15 degrees and raining. We had such a fabulous trip, thank you so much for your professional help in arranging it. The holiday was super, really relaxing and exactly what we needed. Our Skipper, Kolja, was also great (a good fit with our group), and the itinerary was perfect (I especially liked Bigova and Kotor). Thanks again!
Verica Rakočevič, Serbia, July 2010
Our vacation was like a fairy tale and we thank our dear skipper Nikola for that! He surely had hard time with three demanding women but he dealt with it like a hero! Thank you again and see you next year.
Becky, Laurie, Adriane, Kelsey, Alana, Helena
U.S., Australia, Sweden, September 2009
Our Montenegro trip with YachtingAdria was fantastic from start to finish! While we were planning our trip, the staff at Yachtingadria were extremely helpful answering all our questions and helping us make arrangements for transportation, accommodation and advice on what to pack. Once we arrived in Montenegro everything was taken care of so we could relax and enjoy our trip. The 7 day trip we did would be great for all ages and all levels of sailing experience. We designed the trip the way we wanted it - what marinas we wanted to visit, how long we spent in towns, how much time we spent sailing - so it kept everyone in our group happy and enjoying the vacation. With the help of our captain Nikola, we took advantage of opportunities to see and experience local culture we would have never been able to do on our own. We would recommend this trip for anyone wanting a great vacation with a mix of relaxing, swimming, sightseeing, sailing and lots of stories and fun memories! We hope to go back and do the trip again soon!